Online MBA in Finance
Many companies place a high value on employees and job applicants with an MBA in finance. For those looking to pursue any career that deals with money, a traditional or online MBA is invaluable. Having this degree gives you an immediate edge over your competitors when applying for high-level career opportunities. An online MBA in finance includes studying financial theory, mathematics, and economics, along with a heavy focus on business management. In most cases, online study is followed by a finance internship designed to give you a great deal of on-the-job experience.
Affordable Online MBA in Finance Programs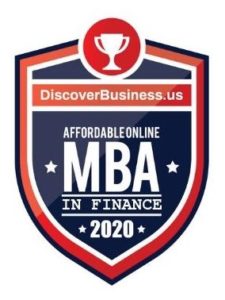 Researching and choosing the online MBA in finance that fits both your needs and budget can be a daunting task. To help make this process easier, we have researched and ranked the most affordable online Masters of Business Administration in Finance degrees available in the US.
A list of over 147 schools was obtained and evaluated first on their MBA program's distance learning format. We have only included programs that are 100% online/distance learning.
Then each program was reviewed based on accreditation. Every program included in this ranking is both regionally accredited by one of the accrediting agencies recognized by the US Department of Education and CHEA. Additionally, it holds accreditation by one of the following three business school accrediting institutions: IACBE, ACBSP, and AACSB-International.
Next, we ensured that all remaining programs on our list are from not-for-profit or public institutions.
Lastly, we ranked the MBA programs based upon the estimated tuition of each program. The program tuition information was collected from the most recent data available on each school website or US News & World Report. The cost data was calculated for the entirety of the degree but did not include ancillary costs such as books.
The 10 Most Affordable Online MBA Programs in Finance for 2020
100% Online
Fully Accredited
From Public or Non-Profit Institutions
Rank
School
State
Accred.
Tuition
Per Credit
Avg. GPA
Accept
Rate
Retention
Rate
1
Sam Houston State University
TX
AACSB
$308
3.4
81%
72%
2
University of Louisiana Lafayette
LA
AACSB
$387
3.5
83%
75%
3
University of North Alabama
AL
AACSB
$425
3
91%
76%
4
University of South Dakota
SD
AACSB
$451
3.3
95%
74%
5
Fayetteville State University
NC
AACSB
$494
3.3
95%
75%
6
Shippensburg University of Pennsylvania
PA
AACSB
$526
3.1
97%
83%
7
Clarion University of Pennsylvania
PA
AACSB
$557
3.3
97%
78%
8
Arkansas State University
AR
AACSB
$610
3.3
57%
59%
9
Ball State University
IN
AACSB
$616
3.4
63%
92%
10
Texas A&M University-Commerce
TX
AACSB
$617
3.2
74%
84%
What is an Online MBA in Finance?
An online MBA in finance can prepare students for high-level jobs in any industry. It differs from a traditional MBA by its accessibility from anywhere with an internet connection, virtual learning as opposed to a traditional classroom environment, and oftentimes its flexibility in scheduling and completing coursework, which can be particularly helpful for working students. Choosing to pursue an MBA online is a good way to start if your career goal is to obtain a top-level executive position at any major company. This particular online degree program aims to prepare students for careers in corporate finance, banking, and financial planning, but an online MBA graduate's career choices aren't limited to those industries. Post-graduation, students should be ready for a variety of other careers in finance as well.
Accredited MBA programs in finance online provide students with business and financial skills and the necessary insight to predict changes in the economy. Students learn to determine the most crucial issues affecting management and organizations from a financial standpoint. When the US economy's outlook is uncertain, the country needs highly educated financial experts.
Some schools require students to achieve a high score on GMAT tests to qualify for online MBA programs; however, many schools are now choosing to waive this GMAT requirement to attract more students to accredited MBA programs in finance online.
Before choosing an MBA in finance online, students who are considering a long-term career path in the financial sector should first consider whether finance is the right course of study to help them meet their goals. As mentioned earlier, online MBA programs in finance exist to prepare students for specific careers in the financial sector. Students who are interested in careers outside of this particular niche may want to consider other specializations. For example, an online MBA in accounting may be a better choice for those looking to pursue a career as a certified accountant. This program is more specifically designed to provide students with a strong background in tax law, real estate law, and the basic principles of accounting.
Online MBA in Finance Curriculum
An online MBA program in finance is designed to prepare students for a wide array of real-world scenarios and situations experienced by those working in high-level financial positions in companies of all sizes. Some of the topics students will cover throughout their studies include:
Capital investments and financing
Financial analysis
Planning, forecasting, and managing investments
Risk management
Core cash management
Banking relationships and payment processing systems
Liquidity analysis and management
Short-term and long-term borrowing
Although an online MBA with a concentration in finance is heavily focused on the study of financial management and economics, students can also expect to learn a variety of business management techniques and skills, including:
Business communication
Business law
Ethics
Statistics
Marketing
Accounting
Supply chain management
While the specific courses and curriculum may vary between institutions, typical MBA online courses for those specializing in finance include but aren't limited to:
Cost Analysis and Profit Planning: Typical topics for this course include cost and profit analysis, strategic planning, and current trends. Students learn how to analyze financial patterns and develop the insight to predict futures and plan economic strategies.
Corporate Financial Management: Students in this course study investments and capital structure from a corporate perspective. They learn how to budget appropriately for their business needs, manage financial portfolios, and analyze risk. Typical coursework may include case studies of an existing firm to analyze risk and create mock budgets.
Investment Portfolio Management: Topics studied in this course typically include risk and return measurement, market theory, corporate bonds, equity, and performance evaluation. While this course is ideal for those seeking a career in financial planning, the coursework can also benefit those pursuing corporate financial management positions.
Short-Term Financial Management: Students enrolled in this course learn a variety of topics, including banking relationships, cash management, and payment processing systems. Additionally, the course typically focuses on inventory management, cash forecasting, and short-term borrowing. The curriculum for this course is designed to prepare students for financial careers within business organizations.
Financial Reporting: This course focuses on the preparation of financial statements, how to read and analyze them, and the limitations of the information they provide. Students generally study various document forms, including income statements, cash flow statements, and balance sheets. While this course is designed to provide a foundation for students seeking a corporate career in accounting or finance, it's a crucial course for any student entering the business world.
Managerial Ethics: Business ethics courses are imperative for any student preparing for a professional career. Those entering the world of finance can especially benefit from this managerial course that's typically rich in societal ethics, financial and corporate responsibility, and organizational decision-making.
Financial and Managerial Accounting: Accounting courses are perhaps the most important part of any online MBA program. They provide students with a thorough understanding of preparing and analyzing balance sheets, income sheets, and cash flow statements. Additional topics of study generally include budgeting and forecasting.
What unique career paths can I pursue with an MBA specializing in Finance?
A long list of career opportunities is available to those who graduate from online MBA programs with a finance specialization. These graduates can provide a unique perspective to business organizations. With their expertise in financial planning and forecasting, they have the ability to detect issues in budgets and accounting systems, forecast sales and financial trends, and ultimately play a key role in driving revenue to new heights. When it comes to personal finance, those with an online MBA in finance can provide wealth management and investment portfolio management services to individuals, helping them to ensure a comfortable lifestyle and a lucrative retirement. The list of career options that are available to graduates of online MBA programs is vast.
Financial Analyst
Financial analysts work with businesses and individuals to provide expert investment advice. Their job is to assess the performance of investments and recommend the best course of action. Typical day-to-day duties include:
Evaluating financial data and business trends
Analyzing financial statements of businesses and individuals to determine the value of their assets
Providing companies with advice on their best course of action in terms of investments and financial planning
Assessing the strength of management teams within companies
Preparing written statements and reports
There are several types of financial analyst, and each performs a different scope of work. While portfolio and fund managers are responsible for investment decisions and strategies, ratings and risk analysts focus on debt and loss by providing evaluations on a company or individual's ability to repay debt and manage and predict potential losses.
According to the Bureau of Labor Statistics, the median annual wage for financial analysts as of May 2018 was $85,660.7 Long-term occupational projections for financial analysts predict a 10% increase in job opportunities by 2026.7
Top-Level Executives
Top-level executives, such as chief financial officers, are responsible for overseeing entire companies' operations and acting within a board of directors' guidelines.
Typically, it's their responsibility to direct the company's managers and employees' operational activities by developing business strategies and analyzing risk. Mid to large-sized companies across various industries hire a team of executives, which creates plenty of opportunities for those with the right experience and skillset. Typical daily tasks vary depending on the industry and business but may include:
Meeting with the board of directors and other C-level executives to discuss business strategy
Analyzing and forecasting risk and sales trends
Maintaining banking relationships and developing or maintaining payment procedures
Assessing the management team and organizational processes to determine flaws and areas that require improvement
While the salary for those in this position varies depending on various factors such as industry and the company's size, the average salary earned by chief financial officers throughout the US as of May 2018 was $189,600.8 The highest-paid C-level executives are in California, followed by Florida, Illinois, New York, and Massachusetts.8
Personal Financial Planner
Personal financial planners perform a similar role to that of financial analysts in that they provide advice on investments; however, their position is specific to the needs of individuals. In addition to investment advice, a financial planner's typical day-to-day duties include:
Insurance advice
Mortgage planning
Estate planning
Tax advice and preparation
Retirement planning
According to the Bureau of Labor Statistics, the average annual pay for financial advisors as of May 2018 was $88,890.9 Job opportunities for financial advisors are expected to grow by 15% by 2026, which is above average when compared to all other occupations.9
Management Analyst
Management analysts, often referred to as management consultants, are typically hired by business organizations to determine flaws in management processes to improve the business's efficiency and, ultimately, reduce costs and increase revenue. Typical day-to-day duties may include:
Meeting with upper-level management to provide insight into the company's management team and processes
Determining root causes of business issues including profit loss and organizational flaws
Developing strategic plans to increase efficiency and revenue
Training or retraining management professionals to improve job performance
According to the Bureau of Labor Statistics, management analysts earned a median annual wage of $83,610 as of May 2018.10 Job growth is above average; opportunities for management analysts are expected to increase by 14% by 2026.10
Financial Manager
Financial managers are responsible for overseeing an organization's entire financial profile. It's a financial manager's job to make sure companies are on track when it comes to achieving financial goals, including meeting revenue targets, keeping costs down, and maintaining a lucrative financial portfolio. Day-to-day duties might include:
Producing financial reports
Calculating and analyzing profit and loss
Developing strategies to meet long-term financial goals
Maintaining the company's investments
According to the Bureau of Labor Statistics, financial managers earned a median annual salary of $127,990 per year as of May 2018.11 Job availability in this field is expected to increase by 19% by the year 2026, which is far faster than the average job.11
Should I get an online MBA in Finance?
If you're considering an online MBA in finance, it's important to consider whether or not this program is right for you. There are several questions that you should ask yourself before pursuing your MBA in finance.
Do you want to be responsible for the financial investments of other individuals or businesses?
Most positions held by online MBA graduates with a finance concentration involve a high level of financial responsibility. Before you pursue an online MBA in finance, it's important to consider your comfort level with handling large amounts of money on behalf of other individuals and businesses.
Are you planning to pursue a top executive position within a major corporation?
If holding a job title such as chief financial officer is a goal that you've set for your future, obtaining an accredited MBA in finance online is an excellent place to start. An online MBA in finance lays the groundwork for the skills needed by those in top-level executive positions in companies of all sizes.
Are you hoping to qualify for higher pay or more responsibility at your current job?
If you're already employed in the financial sector and are looking to increase your chances of qualifying for a higher-paying job at the company you're working for, an online MBA in finance might be a good option for you. Many students choose to pursue an MBA online to obtain more responsibility and promotions at work while maintaining their current work schedules.
Can you handle the workload that's required of an MBA student?
Obtaining an MBA in finance online isn't an easy task. It's a long-term commitment that requires dedication and perseverance. Before you enroll in an online MBA program, it's essential to make sure you have the necessary spare time to focus on your studies and complete your assignments on time. This is particularly important to consider for those who are already employed full-time.
Is a management or consulting career something you see in your future?
Most online MBA graduates, particularly in finance, go on to work in financial management positions with mid-sized to large companies or find themselves taking on a consulting role, whether with a larger firm or independently. If these are job areas you're considering for your future, an online MBA in finance may be the best choice for you.
Frequently Asked Questions
Does having an online MBA in finance give me a competitive edge against those with a master's degree in finance?
That depends on your long-term career goals. If you're interested in working in a management or consulting role, having an online MBA is invaluable. It gives you the skills to be a competent business manager in addition to financial expertise. Those who have an online MBA in finance also tend to have more career flexibility because they complete their schooling with a broader range of courses under their belts.
How long does it take to earn an online MBA in finance?
Online degree courses are generally more flexible when it comes to the number of times students complete their programs. While some schools offer accelerated, intensive online MBA programs that can be completed in as little as six to eight weeks, the average amount of time a student can expect to take to earn their MBA in finance online is about two years.
Is it better to obtain my MBA in a classroom setting?
While for some students, the classroom is a more effective learning situation, those who require flexible scheduling and have a high level of discipline can certainly succeed in an online MBA program.
Are schools that offer online MBAs accredited?
Just as with any major purchase, it's important to conduct thorough research before committing to an online MBA program. Prospective students can search the United States Department of Education's accredited programs database to determine if they're applying to an accredited online MBA program.1
Other Popular Online MBA Program Pages

References:
1. US Department of Education, Accreditation in the United States, Institutional Accrediting Agencies: https://www2.ed.gov/admins/finaid/accred/accreditation_pg6.html
2. Council for Higher Education Accreditation (CHEA): < ahref="https://www.chea.org/" target="_blank">https://www.chea.org/
3. International Accreditation Council for Business Education (IACBE): https://iacbe.org/accreditation/member-status-information/
4. Accreditation Council for Business Schools and Programs (ACBSP): https://www.acbsp.org/page/membership_list
5. AACSB International: https://www.aacsb.edu/accreditation/accredited-schools
7. Bureau of Labor Statistics, Occupational Outlook Handbook, Financial Analysts: https://www.bls.gov/ooh/business-and-financial/financial-analysts.htm
8. Bureau of Labor Statistics, Occupational Outlook Handbook, Top Executives: https://www.bls.gov/ooh/management/top-executives.htm
9. Bureau of Labor Statistics, Occupational Outlook Handbook, Personal Financial Advisors: https://www.bls.gov/ooh/business-and-financial/personal-financial-advisors.htm
10. Bureau of Labor Statistics, Occupational Outlook Handbook, Managment Analysts: https://www.bls.gov/ooh/business-and-financial/management-analysts.htm
11. Bureau of Labor Statistics, Occupational Outlook Handbook, Financial Managers: https://www.bls.gov/ooh/management/financial-managers.htm